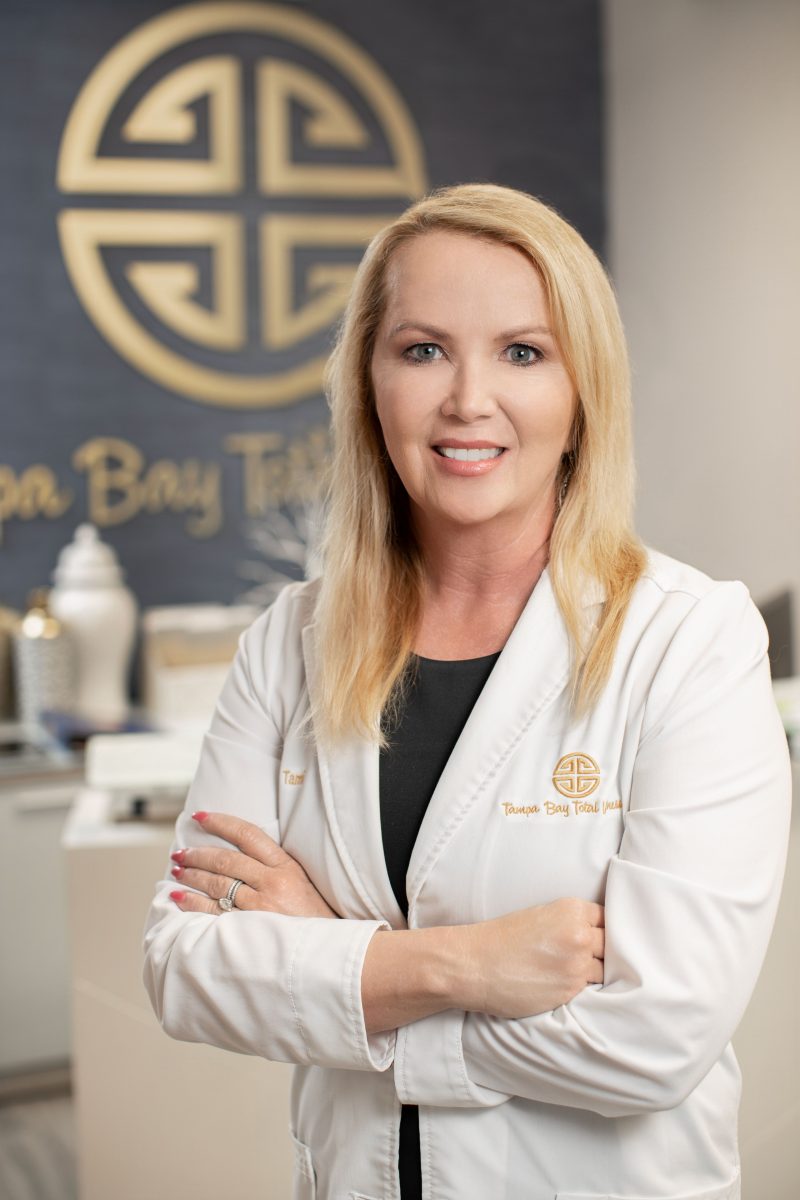 Tami Oberbroeckling PA-C, Founder/Managing Partner/Provider
Tami Oberbroeckling formerly Tami McGarry, of Dayton, Ohio, and the sixth of seven children, has always been an over achiever. At 26-years-old, Tami graduated at the top of her class as a Physician Assistant and began her career in Neurosurgery. She worked at a level I trauma center alongside a talented neurosurgeon and was known for her dedication, determination, skill and calming bedside manner.
Tami achieved great success in her 19-year career while raising her two boys. She retired to focus on orphan relief in Jamaica and Africa. During that time, Tami adopted two girls from Jamaica and Swaziland. She returned to the United States so her daughters could get an education. Tami found her place in Stuart, Florida where she opened and operated the Back and Spine Center at Martin Health Systems. This successful center was one of the first of its kind where patients were able to access treatment for brain and spine injuries within 48 hours.
A move to Tampa in 2012, to be closer to her parents, led Tami to work in emergency medicine and as a hospitalist covering three of Tampa's largest hospitals. She played an integral role in opening and directing two anti-aging medical facilities in the Tampa Bay area before founding Tampa Bay Total Wellness.
Tami brings 32 years of diverse medical experience and knowledge to Tampa Bay Total Wellness. She combines this with her passion to stay on top of the latest in anti-aging medicine. She uses her precision surgical skills to lead the area in bio-identical hormone pellet therapy, sexual wellness and aesthetic services. Tami offers personalized concierge medicine, weight loss management and makes house calls, when necessary.
Tami recently met and married the man that puts that smile on her face!  Their love story is nothing short of a Hallmarks movie and should inspire HOPE in all of us!
She loves her small-town life in Safety Harbor, Florida, where she lives with her husband, Larry, and her 16-year-old, youngest daughter, Tula "Rose". You will frequently find them eating at a local restaurant, taking in a game at one of Tampa Bay's sports venues or enjoying a sunset at the beach.
Lindsey Carroll ARNP, FNP-BC
Lindsey is a Florida native, born and raised in Melbourne, FL. She lives an active and healthy lifestyle, finding joy in outdoor activities such as going to the beach with her Golden Retriever named Cooper and playing golf on the weekends. Lindsey has been a Registered Nurse since 2016 and has gained invaluable experience in Cardiac PCU, PACU, and Internal Medicine. With this experience and passion for healthcare, Lindsey furthered her education by pursuing a Master's Degree in Family Nurse Practitioner. She is a determined professional in the healthcare field that successfully navigated the demanding path of completing nurse practitioner school full-time while concurrently holding down a full-time job. Her unwavering commitment and tireless work ethic not only showcase her personal dedication but also highlights her profound commitment to both the healthcare field and the community she serves.
Lindsey's academic achievements speak volumes about her commitment and intellectual capabilities. She earned her undergraduate BSN at the University of Central Florida and FNP-MSN degree at Purdue University Global where she graduated with honors in both didactic and clinical aspects of her program. This educational foundation, coupled with her hands-on experience and ongoing professional development, enables Lindsey to provide evidence- based personalized care that meets the unique needs of each patient.
Lindsey's interest in overall health and wellness led her to join the Tampa Bay Total Wellness team. With Lindsey's compassionate approach and unwavering dedication to excellence, patients can trust that they are in skilled hands as they embark on their aesthetic journey. Lindsey is excited to help her patients enhance their nature beauty and achieve their desired aesthetic goals one step at a time.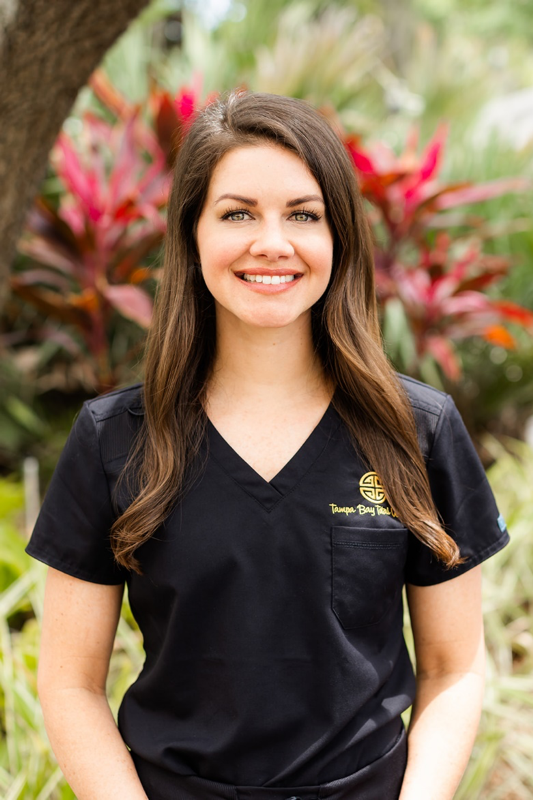 Deedee Waldrop, Practice Coordinator
DeeDee was born and raised in the Tampa Bay area; a true Floridian. Her heart belongs to the sunshine state! She expressed interest in beauty at a young age with a passion for cosmetology. Continuing that path after high school led her to become a freelance makeup artist for Laura Mercier, a Global leader in the makeup industry, that focused on skin care and makeup to enhance natural beauty. To further that skill, she attended Artistic Beauty Academy where she pursued her love for makeup artistry and passion for skin health. Not long into her career, she and her Husband welcomed their first child. With two beautiful step-daughters in addition to their newly growing family, she made the decision to stay home and raise her family. With a new direction to her life, she became less focused on beauty and more focused on health and wellness. As a young mom of 3, it was important for her to stay fit and educate herself about nutrition, to set good examples for her daughters.
Once her girls were grown and adults, she ventured into medical sales, spending four years with a durable medical equipment company, which reminded her daily of the consequences of aging. She herself felt fatigued, experienced low-libido, weight gain, and lack of sleep. She decided to research Hormone Replacement Therapy and became a client of Tami and Kelly's where she's been treated with Bio-Identical Hormone Replacement Therapy for the last two years. It was a game-changer for Deedee and she continues to refer friends and family with her heartfelt testimony of how the therapy has changed her life for the better. DeeDee enjoys a very active lifestyle that wouldn't be possible without having balanced hormones. She's extremely proud to be the practice coordinator at Tampa Bay Total Wellness where she can share her passion for anti-aging through beauty and longevity.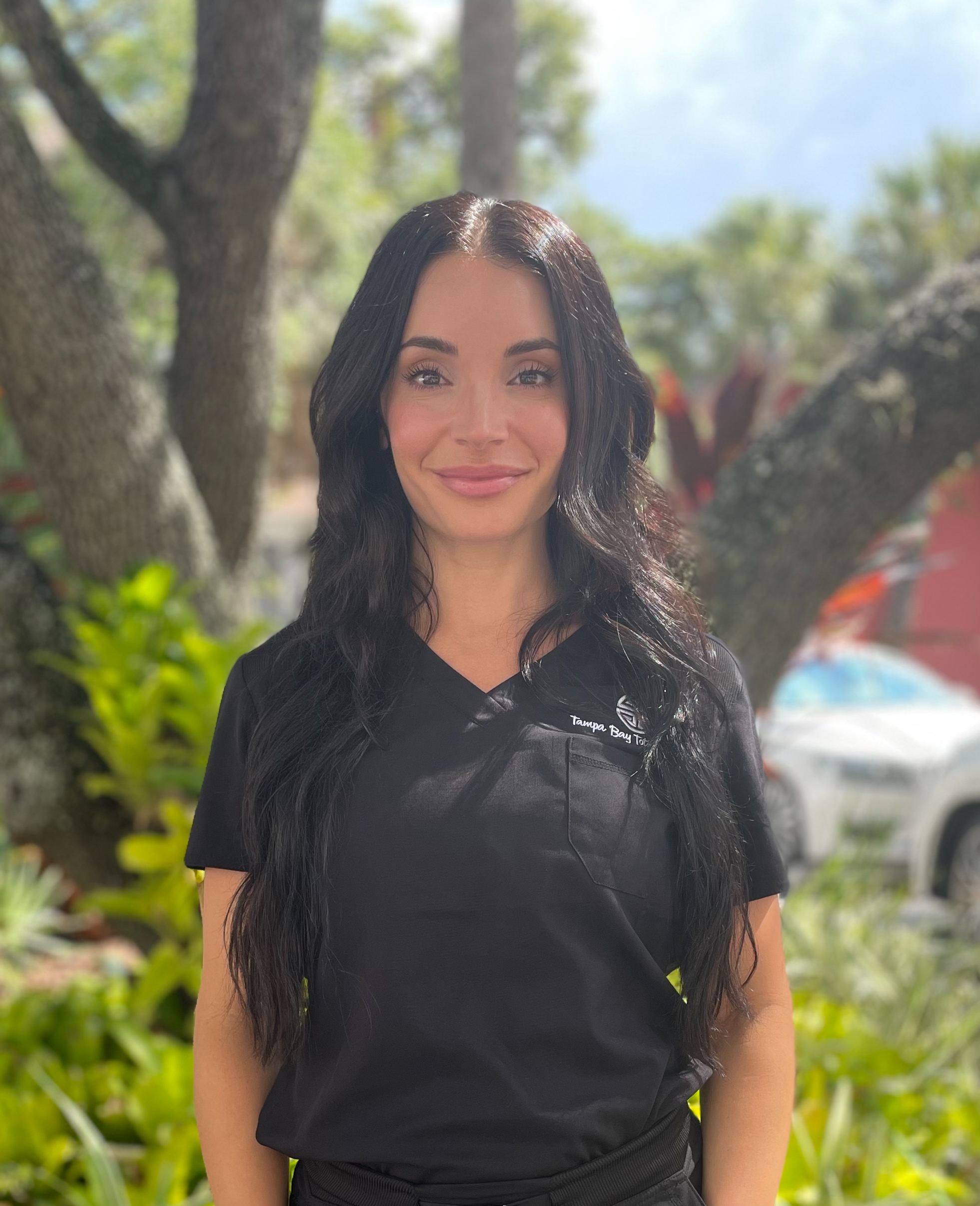 Christina Jones, RN
Christina is a true Florida native; born and raised in the Tampa Bay area. Growing up as 1 of 3 children from Cuban Immigrant parents, she is bilingual and has a love for Cuban cuisine. Living a healthy and an active lifestyle are very important to her, she has been consistent with fitness and proper dieting her entire life. Christina has always wanted to help people and found her passion in nursing, health and wellness. She attended Galen College of Nursing where she pursued her nursing education and graduated Salutatorian of her class. Upon graduation, she landed her first hospital position in Tampa, in the medical surgical unit. She continued to expand her knowledge in nursing, and joined a specialty team in cardiology. Age management, longevity, and health have always been on the forefront of her passion and commitment to find a practice she could join and call home.
In 2022, Christina joined Tampa Bay Total Wellness, a practice focused on longevity and vitality. Christina loves working out, relaxing to the sound of the ocean waves and hanging out with her two dogs, Rocco and Louie. Happily married and living in the heart of South Tampa, she loves the charm and history it brings, as well as the proximity to Tampa Bay Total Wellness. Her husband Austin works in law enforcement, as a deputy for the Hillsborough County Sheriff's Office. When he is not out protecting and serving the community, you can find them spending quality time in the gym together, pushing each other to be the best version of themselves. They love eating local fair and anything and everything Italian.